Integrity Roofing
http://middletennesseeroofs.com
Choosing a trustworthy, capable roofing contractors for your Franklin TN roofing project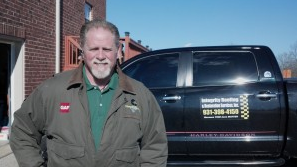 or roof repairs in Brentwood work can be a difficult decision. But selecting the right roofer is easy when "integrity" is right in the company name!
Since 2009 Integrity Roofing TN LLC has been roofing Franklin TN homes and business, as well as providing exceptional roofing services throughout Middle Tennessee. This is our part of the country, and our customers know they can count on Integrity Roofing Services Inc. to get the job done right.
We're not the biggest roofing company in the region, but we have the resources and experience to tackle any type or size of roofing project, both residential and commercial. We excel by delivering better customer service and top quality work, all at affordable prices.
Our team consists of talented roofing professionals who learned their trade the right way, by working on roofs and home improvement projects. You'll enjoy direct involvement from management, and expert on-site project management on every roof repair in Franklin TN or replacement roofing in Brentwood TN. We don't just want you to be satisfied – we want you to be so thrilled with our work that you'll recommend Integrity Roofing TN LLC to your friends and neighbors!
A Commitment to the Community
We don't just work in the region, we live here, too. The roofs we build or repair are for our neighbors and friends. We take great pride whenever we drive past a roof we installed, especially when we see it standing sturdy in a downpour or winter storm!
We are also committed to giving back to the community that has provided us with so much trust and support. We are active participants in supporting such causes as Roofs for Troops, Habitat for Humanity, and the Good Shepard Children's Home.
We Want to Be Your Roofer
Everyone at Integrity Roofing TN LLC is on the same page when it comes to our commitment to providing superior customer service. We never take our work for granted, and put 100% effort into everything we do. We truly appreciate the trust and confidence our customers place in our company and our people.
Call Today for a FREE Franklin Roofing Estimate
You'll rest easier with an Integrity roof over your head. Call Integrity Roofing Services Inc., the leading company for roofing Franklin TN homes and businesses, at 866-749-4488 to schedule a FREE roof inspection and estimate.
Office Location:
2029 Lincoln Road
Spring Hill, TN 37174
Hours: 6am to 10pm, 7 days a week